Inlet's experience extends throughout the entire capital stack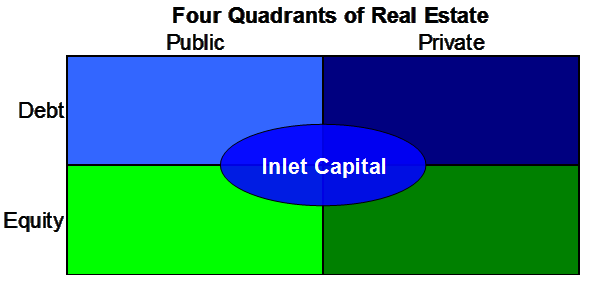 We optimize the capital structure to deliver investment performance and flexibility. We combine in-depth market knowledge, long term relationships and proprietary deal flow.
Inlet's business and growth strategy consists of the following elements:
Provide a Diverse Range of Real Estate Debt and Equity Financing Products
We are a single source of both debt and equity financing to real estate owners. We invest in B Notes, mezzanine financings, bridge loans, whole loans, distressed debt, CMBS, and preferred and structured equity financings or any combination of these financing solutions. We also selectively invest directly in commercial real estate assets.
Leverage Market Knowledge for Investments in Equity Securities
We invest in equity securities to take advantage of the investment opportunities available in the real estate sector. The types of real estate related securities in which we invest include real estate investment trusts, companies that are principally engaged in the real estate industry, and companies that do not directly participate in real estate, but whose securities are either trading at a discount to the inherent value of their underlying real estate or have superior growth potential. Our strategy with respect to investing in real estate related securities is to identify pricing inefficiencies among securities whose performance is driven chiefly by real estate fundamentals. We believe that the public markets for real estate related securities are inefficiently priced due to their lack of sponsorship within the investment community and the high level of expertise required to evaluate prospective investments in real estate related securities.
Invest Opportunistically in Multiple Real Estate Sectors
We focus on financing and investment opportunities in a wide range of real estate sectors—office, industrial, retail, lodging, resort, multi-family, entertainment, specialty and other real estate intensive assets and entities—throughout the United States and selected international markets.
Target Opportunities in the Top MSAs
We target real estate investment opportunities in the top U.S. metropolitan statistical areas, or MSAs. We believe these markets have characteristics best suited for the demand for our targeted investments, including larger and greater number of real estate assets, greater barriers for new real estate development, less opportunity for future development, and more stable demand for real estate. In addition, our founders and members of our senior management team have strong relationships with real estate owners and investors, third-party mortgage and real estate brokers, CMBS originators, commercial and investment banks, financial institutions and other strategic partners in many of these markets. We also invest selectively in similar real estate sectors in Canada, Mexico, and Western Europe where we have strong relationships.